Topical Medications
Total Tears offers topical compounded formulations as an alternative treatment for your patients.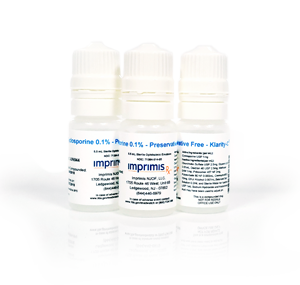 Preservative Free Chondroitin Sulfate/Cyclosporine 0.1% is now available for only $50 per 5.5mL Bottle (ships in packs of 3). Click here to download our prescription order form. You can also prescribed through your electronic medical record (EMR) system. Email our EMR support expert at emrsupport@imprimispharma.com.
Have questions? Need answers? Click here to contact us today and we can help.
Commonly Requested Formulations*

Unit Size

Price

NOW AVAILABLE:


Klarity-C Drops (Chondroitin Sulfate/Cyclosporine 0.1%) Preservative-Free


5.5mL

$50/month (Ships in packs of 3)
Klarity Drop (Chondroitin Sulfate) Preservative-Free
10mL
 $20 per bottle
Oral Medications
We offer a proprietary powder formulation that includes Triglyceride Omega-3 fish oil in combination with Doxycycline in an acid-resistant capsule.
HOW TO ORDER
Get your patients started today with 3 easy ways to order.
Order online through our doctor portal at http://doctors.imprimisrx.com
Fax completed order form to 855.405.4669
Call 844.4.IMMYRX (844.446.6979) to place a verbal order
Click here to contact us today for more information.